MARCH 10TH, 2015 - MAY 10TH, 2015
SESC POMPEIA, SÃO PAULO, BRAZIL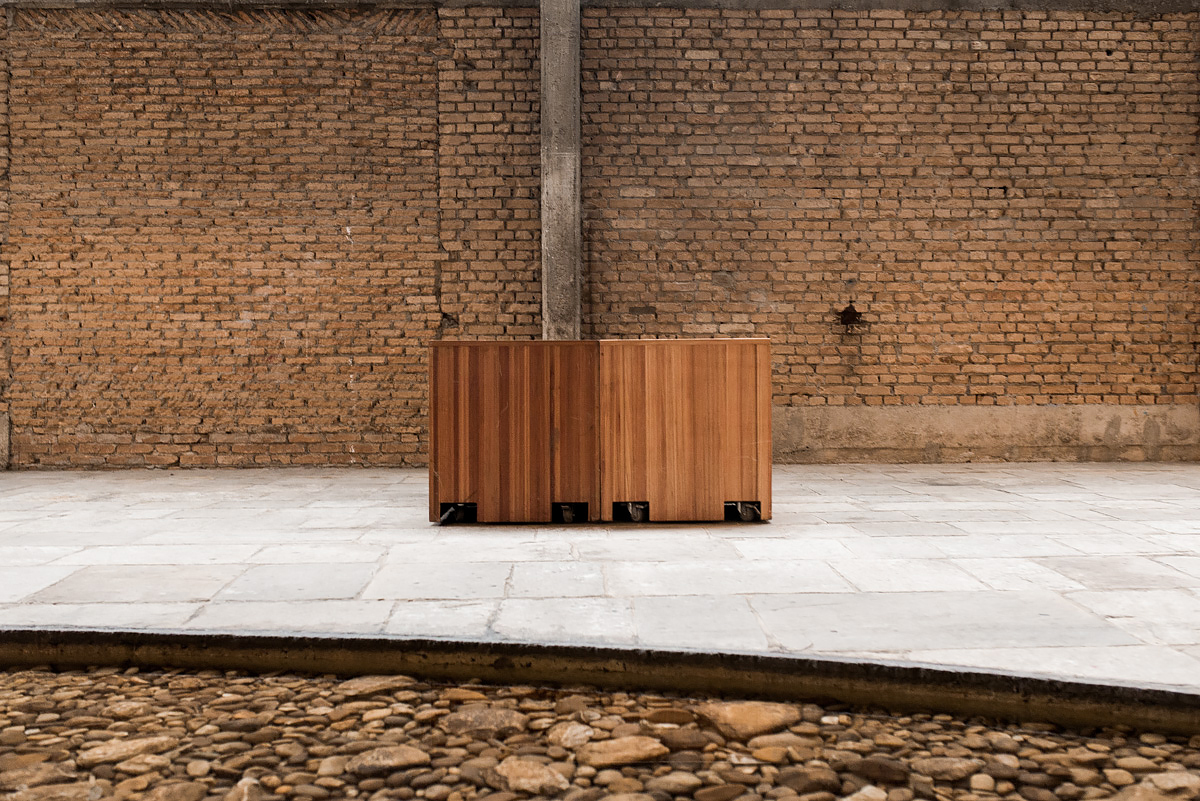 Curated by Marina Abramovic and artists Paula Garcia and Lynsey Peisinger, Terra Comunal - MAI is the Institute's most ambitious undertaking to date. At SESC Pompeia, MAI is presenting the Abramovic Method; a series of talks with Abramovic; and eight Brazilian artists who will perform during the duration of the exhibition. There is also a designated space for free experimentation and collaboration where visitors will have the opportunity to explore the directions and limits of immaterial art and performance, as well as special programming that includes re-performances of Abramovic's work by artist Andrea Boller.
The title of this exhibition, Terra Comunal, is based on Abramovic's experiences in Brazil. In 2012, the artist went to Brazil looking for places of power: waterfalls, trees, landscapes, rivers, insects, plants, and for people with a certain energy, in tune with a larger sense of the planet and spiritual exchange. In her own words, "I mean where the sky is big and cloudy. I mean where the rain comes all at once and as soon as it starts, it stops. Where you can breathe air with full lungs." Terra Comunal also translates to "Common Ground" in English, and is about time and space, new forms of interaction, and reinforcing a sense of community while fostering collective consciousness through art.
The Abramovic Method
The Abramović Method is a series of exercises developed by Marina Abramović which aim to explore the limits of body and mind. Its practice, detached from the distractions and hurry of the modern world, demands focus and introspection, providing those who engage in it a state of clarity and connection with their own self, something that is increasingly rare in our daily life.
Throughout her artistic trajectory, Abramovic has consistently blurred the lines between the observer and the observed in the context of performance. By inviting audience members to participate in the Method, the public takes on both roles.
To implement the Method at SESC Pompeia, Abramovic has developed a special series of Transitory Objects for visitors to interact with through three basic body positions: standing, sitting, and lying down. 1.5 tons of minerals, in combination with wood, were used to create chairs, benches, beds and pillows. Each object possesses its own unique energetic properties. In addition to interacting with the Transitory Objects, the public is encouraged to spend time walking in slow motion, decelerating the body, breath, and thought, in order to truly be present. The exercises take two hours to be complete, after an initial 30-minute preparation. Participants will leave their belongings in lockers, and receive headphones to block any outside sound. There will be five daily sessions from Tuesday to Saturday and four sessions on Sundays. Each session will accommodate approximately 100 people. Registration is required in advance.
MAI Presents
Eight Brazilian performance artists will premiere new works, five performing daily from 1pm-9pm during the two-month exhibition period. The other three artists will present site-specific interventions.
Ayrson Heráclito (Bahia), Transmutação da Carne [Transmutation of The Meat]
Fernando Ribeiro (Paraná), O Datilógrafo [The Typist]
Grupo Empreza (DF/Goiás), Vesúvio [Vesuvius]
Maikon K (Paraná), DNA de DAN [DNA of DAN]
Marco Paulo Rolla (Minas Gerais), Preenchendo o Espaço [Filling the Space]
Maurício Ianês (São Paulo), O Vínculo [The Bond]
Paula Garcia (New York), Corpo Ruindo [Crumbling Body]
Rubiane Maia (Espírito Santo), O Jardim [The Garden]
MAI Presents is curated by Marina Abramovic, performance artist and President of MAI, with assistance from artists Paula Garcia and Lynsey Peisinger.
In Between
In an area of SESC Pompeia Galpão, the space entitled In Between will function as a public square in which artists, researchers residents, and visitors can meet to exchange ideas and expand their knowledge of performance and immaterial art. It will be a spontaneous gathering place where everyone can share their experience.
In Between has a schedule for long-durational performances, with presentations from Lynsey Peisinger and performances by Grupo Empreza. Historical works by Marina Abramovic will be re-performed by the Brazilian artistAndrea Boller. The space will also host conversations with guests from a variety of fields, as well as educational activities and a collection of publications on performance.
Terra Comunal - MAI is free and open to the public until May 10, 2015 @SESC Pompeia, São Paulo - Brazil.