Collective Experiences
Weekly Diary #6
Text by INTERWEAVE for MAI
Photos by Natalia Tsoukala and Panos Kokkinos

Tuesday, April 19 – 2016
The sixth week of As One has come to an end. It was a week full of energetic moments, emotions, and experiences. This week three new interventional performances were presented: Rafael Abdala's and Jessica Goes' "Protovoulia", Marianna Kavalieratos' "Skin", Elena Antoniou's "An eight hour journey" and another re-performance of "Art must be beautiful, Artist must be beautiful", first performed by Marina Abramovic in 1975.
Highlights from the public programs include Olga Avgoustatou's talk about silence and mutual gaze in literature; Thanassis Akokkalidis', an As One intervention artist and facilitator, second workshop titled as "Follow yourself"; Paula Garcia's talk about her work as a performance artist; Abdala's and Goes' lecture and workshop, "Protovoulia'; Syrago Tsiara's talk "Body Trouble In Performance Art"; and Leda Papakonstantinou's discussion about her work and performance art.
Tuesday April 12th: Day 28
The first day of this sixth week starts with Rafael Abdala and Jessica Goes' "Protovoulia", a call to action piece about exploring the empathy through the collaboration with other artists. Abdala and Goes, both dressed in white, inhabit one of the intervention spaces with barbed wire, a hammer and nails. They spend the hours hammering, unwinding, and hooking barbed wire to create a fence on two walls. By the end of the day, they enclose themselves in the corner, inviting the public to join them.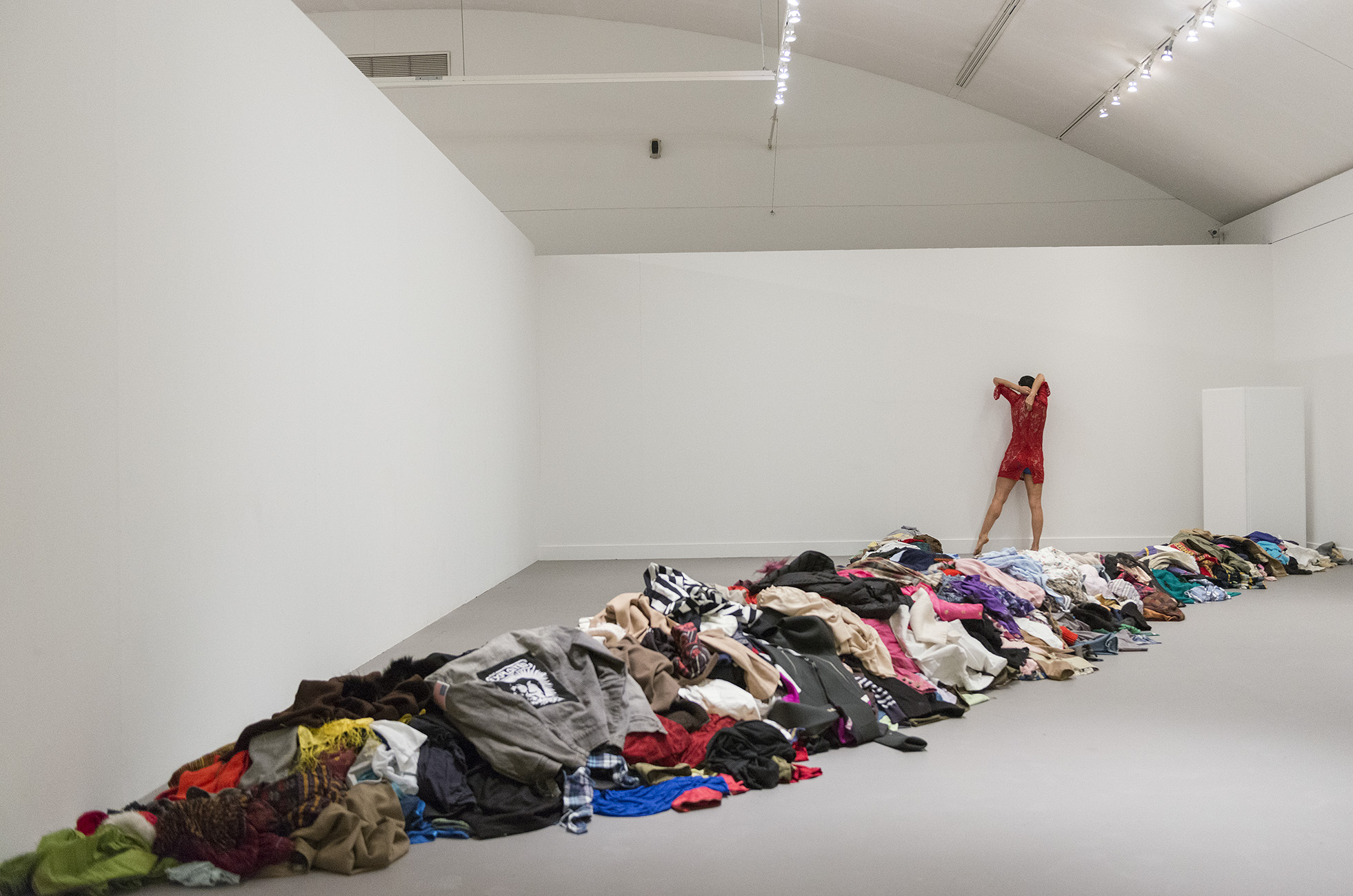 In the space next to them, Marianna Kavallieratos begins her performance "Skin". Dressing and undressing herself nonstop for eight hours, surrounded by a huge pile of clothes, the artist started her exploration of her true skin through the transformation of appearance.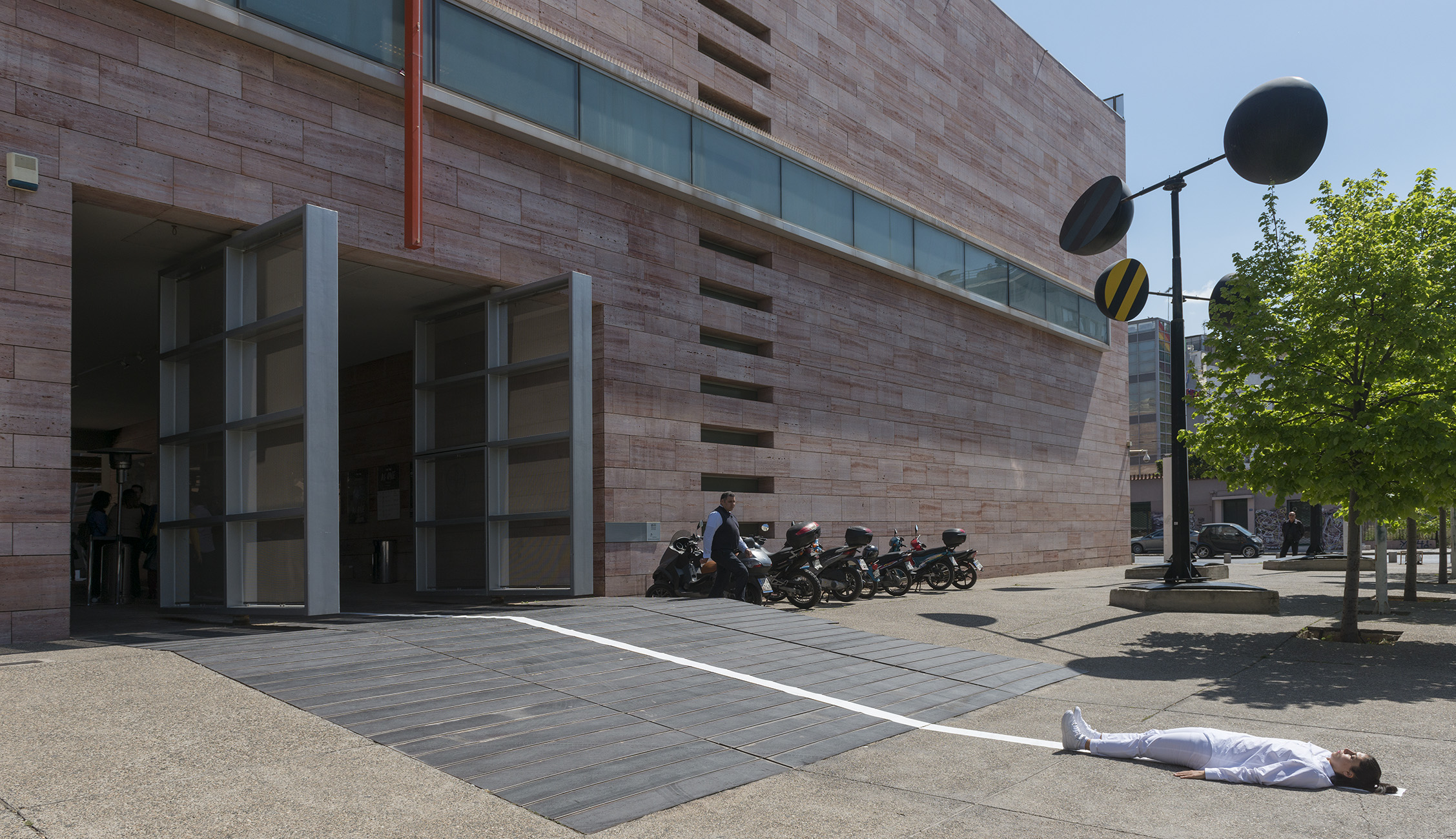 First day of Elena Antoniou's piece titled "An eight-hour journey". Continuously following a route delineated by a twenty-centimetre-wide white line that runs throughout the spaces of the Benaki Museum, Antoniou started an internal journey exploring the limits of the human, through a series of improvisational movements.
In the same day, two events took place on the first floor. Olga Avgoustatou delivered a lecture "I Looked You in the Eyes for Hours" on the experience of silence and mutual gaze in literary texts. Directly following this, Thanasis Akokkalidis led the second of his "Follow yourself" workshop where he invited people to explore freedom under set circumstances and restrictions.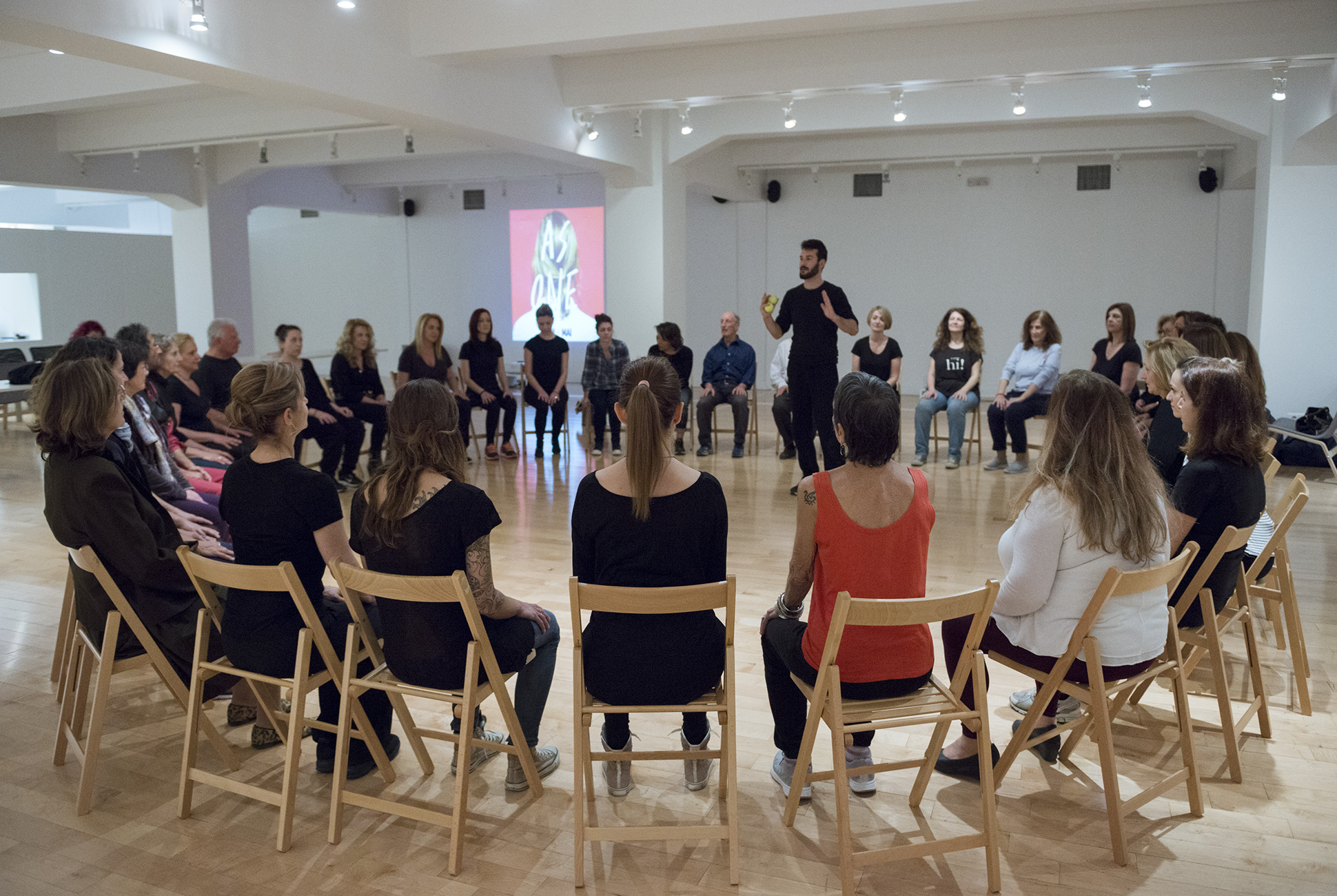 Wednesday, April 13th: Day 29
The second and last day for Rafael Abdala's and Jessica Goes' "Protovoulia" – this day, their space has been brimming with energy: the several Greek artists who will also participate in the following days workshops join them in onsite. Abdala and Goes adds a selection of objects for the artists to experiment with: ropes, bandages, large newsprint paper, ink markers, and metal staples. As the day progresses, the social dynamic and actions constantly shift between playful, restful, or even hostile.
That afternoon, Paula Garcia gave a talk about her work: she talked about her experiences in performance art, while she shared thoughts and feelings with the audience and some other ideas for upcoming projects.
Thursday, April 14th: Day 30
Christina Vasileiou begins her work"bd | n | sl": for three days in a row, eight-hour per day, the artist explores the body's reaction to constant, relentless sound, through dancing to music in a headset. Freely submitting to tracks selected by DJ , she isolated herself in a constant flow of music and sounds, without engaging in any interaction from onlookers.
Rafael Abdala and Jessica Goes return to give a talk, introducing the project "Protovoulia", while discussing the results from first two days, and showing works from their earlier collaborations with Brazil performance group, Grupo Empreza. Inviting several of the participants in their workshop who performed with them a day ago, they set their desires for Protovoulia to function with spontaneity and with its own identity, citing influences of the Gutai and Fluxus movement.
Friday, April 15th: Day 31
The events on Abdala's and Goes' "Protovoulía" continued in the first floor as a workshop that was also open to the public.a series of exercises, practiced Working again with a selection of materials, the performers move through all the museum spaces for four hours.
At the end of the day, Sirago Tsiara had a talk on the body's trouble in performance art, focusing on the historical role of female artists at the beginnings of performance and the characteristics of the current generation of artists.
Saturday, April 16th: Day 32
The day starts with the second day of the "Protovoulia" workshop, led by Rafael Abdala and Jessica Goes for four hours.. After the end of their workshop, Leda Papakonstantinou's and Syrago Tsiara gave a talk about performance. After Tsiara presented some highlights of Papakonstantinou's performance works, the two opened the conversation up to the public. Papakonstantinou opened up about her personal life and relationship with art.
Sunday, April 17th: Day 33
The week closes with two significant events: a re-performance of Marina Abramovic's "Art must be beautiful, Artist must be beautiful", presented for the fifth and last time in the As One exhibition and the performance presentation of the "Protovoulia" running for eight hours. Both the two international and As One's intervention artists inhabited the first floor's space to present a series of actions through collaboration. For the entire day, a number of of people watched the constantly evolving interaction and occasionally participating.